About Us
---
Nevada Mineral & Book Company is a full-service earth science bookstore and gallery, offering a large selection of publications, minerals, fossils, meteorite, gemstones, jewelry and decorator items.
Nevada Mineral & Book Company (NMBC) was established in 1985, when we started selling mineral specimens and out-of-print publications at gem & mineral shows and through mail order. In 1989 we acquired the inventory of the Mineralogical Record Book Department, and incorporated in-print books and journals into our offerings. Over the past 30 years, we have evolved to offer the researcher, educator and collector a wide variety of publications and specimens in a "one-stop" shopping environment. 

In 2001 we opened our first retail location in Henderson, Nevada. In August, 2009 we relocated and opened our new store and gallery in Orange, California. 

We offer a wide variety of new, used and out-of-print publications, as well as mineral and fossil specimens, lapidary and decorator items, and mining stock certificates and other ephemera. We have one of the largest inventories of earth science-related publications in North America, so plan on staying a while if you come to visit our store while in Southern California. You will not be disappointed.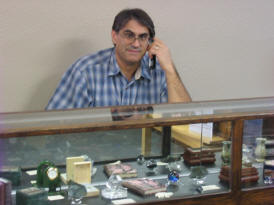 Walter Lombardo
Walt Lombardo is a geologist with over 35 years experience related to mining and mineral exploration. For 16 years, he managed the Las Vegas Office for the Nevada Division of Minerals. He has also worked for Desert Research Institute (part of the University of Nevada system) and served as a consultant for several mining and exploration companies.  Before retiring from mining he most recenty managed the North American exploration program for a Canadian junior mining company with projects in uranium, and gallium and germanium in coal fly ash. Walt has lectured nationwide on topics relating to geology, mineralogy, gemology, mineral resources and mining fraud.